ACO Residential Stormwater Drainage
ACO Self Channel - high strength domestic and residential water drainage systems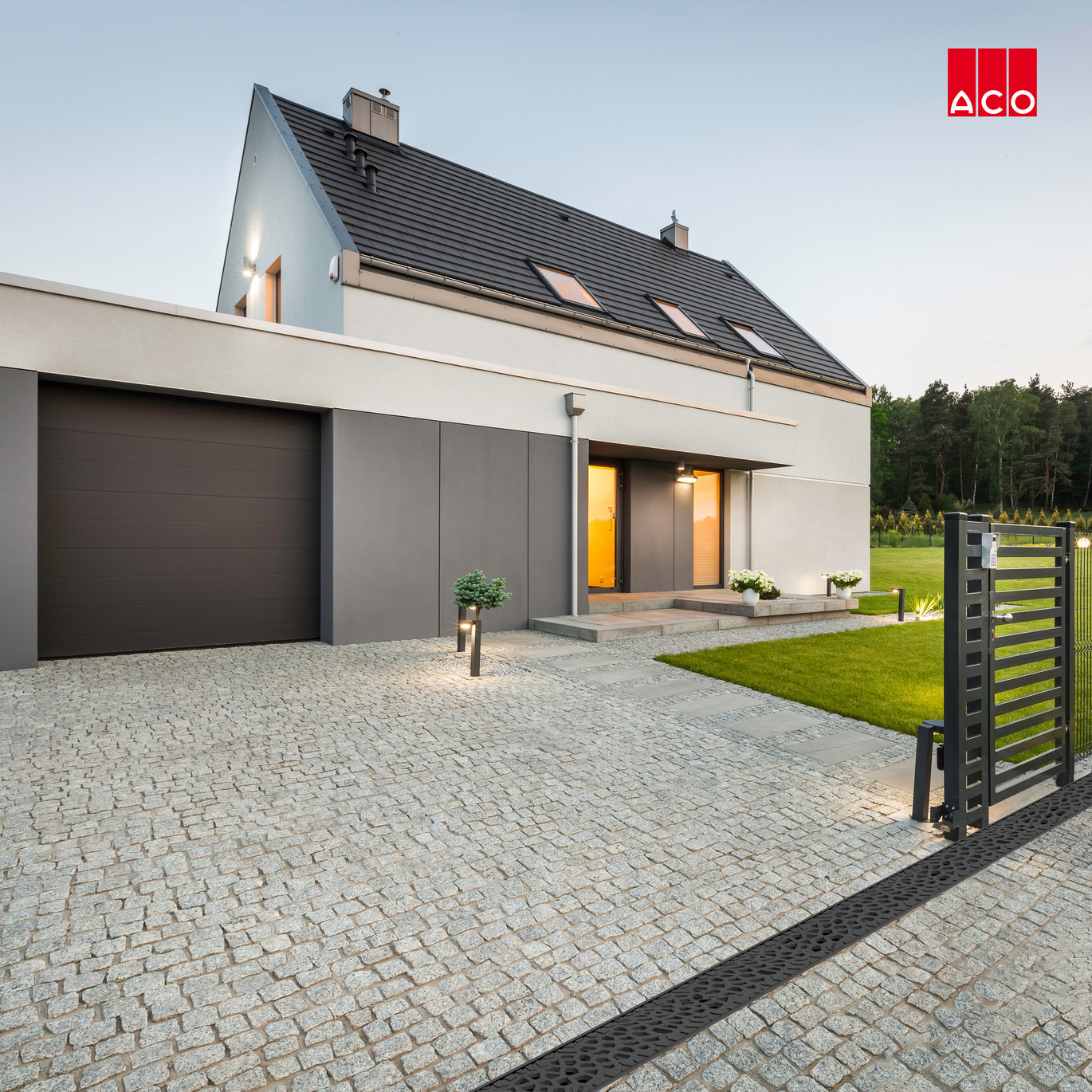 Commercial developments
Residential developments
Private and public parking areas
Landscaping
Light industrial units
Pedestrian precincts
Schools
Sports and leisure facilities
Discreet slot drainage
Threshold drainage
If rainwater is not properly diverted, it can cause structural damage inside and outside the residence. With the ACO Self system, ACO provides drainage channels for all types of terrain and the most varied requirements. One channel for any requirement with a range of grating designs to suit any design need, makes this range a perfect solution for the residential market.
| | |
| --- | --- |
| | Material: Polymer concrete |
| | Light duty traffic applications |
| | Smooth surface for high flow rate |
| | Frost-resistant |
| | High strength |
| | Level invert channel |
| | Sealable joint |
| | V-shaped self-cleaning effect |
| | Free channel cross-section |
| | Self-locking grate |
Euroline
One channel with selection of different grates for a perfect solution
---
Residential Plastic Channel H50
The Next Generation of plastic drainage systems
The new shallow channel for balconies, terraces and low height applications is Versatile, Practical and Easy to assemble.
Drainage systems are becoming more and more important also in private spaces and ACO Plastic Channel offers a drainage solution for every situation and requirement.
This innovative channel is suitable for drainage in areas such as terraces and balconies where the installation height is limited. This is possible thanks to its low height and new technical details, such as the new side connections which make it easy to install.
ACO Plastic Channel H50 is available in a wide range of standard and design gratings perfectly integrated to the aesthetics of the surrounding environment.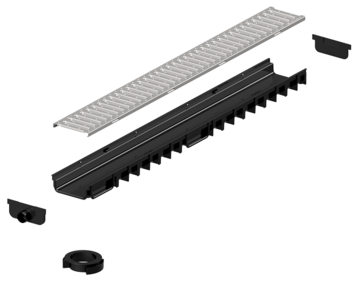 Easy to assemble
High mechanical and chemical resistance
Light weight makes it easy to transport and install
Total installation height = 50mm
Thickness of plastic rail = 5mm
4 side connections make it easy to install "T" and "L" shape drainage connections
Open end cap Ø32 can be installed in 5 different positions; laterla or head position
Load class = A15 / B125
Certified in accordance to EN1433
Residential PP-PE channel and grate leaflet
---
Award-winning: The Voronoi design grate Inspired by the beauty of nature

Our cast iron grate Voronoi enchants the design world! For the third time, the masterpiece was able to convince an international jury of experts. We are very pleased about the iF Design Award2021 in the category "Product Design", one of the most important international quality seals. Since 1954, products have been awarded annually that impress with their outstanding design and great importance for the economy and everyday life. In 2020, Voronoi Design was awarded the DETAIL Product Award 2020, which highlights innovative building products, systems and materials.

The special feature of the prize lies in the evaluation of the submitted products from the point of view and experience of architects, interior designers and planners. We are also pleased about one of the most internationally sought-after quality seals for good design for over 60 years, the Red Dot Award.
---