ACO Composite Manhole Covers
Drain Covers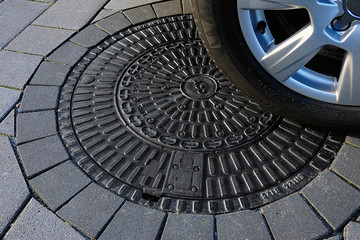 The innovative ACO Manhole Cover System has been developed to meet today's urban infrastructure challenges. The intelligent structure of the elements allows the distribution of dynamic traffic load to ensure that the cover remains at the level of the road surface. The flat surface of the installation guarantees safety and comfort when passing.
The material is Sheet molding compound (SMC) resin, a fiberglass-based compression molding that is used in applications that require high strength. SMC is comprised of several materials including fiberglass, polymer resin, release agents and thickeners.
Advantages of Composite Manhole Covers
Low risk of theft
Available in round and square top sections
Light, Medium and Heavy load classes (A15 – E600) for different applications
Low maintenance and easy installation
High chemical resistance to light oil and hydrocarbon
High resistance to biological substances
Light weight elements compared to concrete products
Thermal stability and UV resistance
Conforms to BS EN124 standards
The lightweight Composite cover can be installed in:
Car parks
Railway platforms
School yards
Industrial areas
Airports
Coastal areas (near beaches and water ways)
Roads
Residential areas
Sewer and storm water drains
Fuel and trade waste
Petrol stations
Shopping malls
Foot paths
---